Is it just me, or does getting dressed in winter just feel so… blah? When the temperatures drop, my morning #OOTD prep goes something like this: jeans, basic sweater, puffer coat, snow boots, rinse and repeat every day until March. Cozy, sure, but the truest creative expression of my style it is not.
Whenever I'm in a style rut (or rewatch Amélie for the millionth time), I look to my ultimate style icons for l'inspiration. There's something about French girl style that is so effortlessly chic, so timelessly stylish, and so je ne sais quoi. It doesn't require a lot of money or effort to keep up with the latest because French girl fashion is built around classics that never go out of style.
I am personally obsessed with Sézane because it does not get chicer than this, ladies. From sweaters with stunning details to trousers that are the perfect fit, Sézane has all of the French girl pieces unique enough to stand out in a sea of basics, but timeless enough to never go out of style. Shop our top picks below and upgrade your wardrobe this winter.
Loïc Stripped Jersey
What's more iconic than a striped top!? This French girl staple is structured, elegant, and the perfect transition piece between seasons. 2 colors available.
Isae Coat
When the temperatures drop and a coat is a must, what's a girl to do!? Put on an on-trend textured coat, of course! 2 colors available.
Willy Jumper
Update your typical V-neck with pretty buttons and a relaxed fit. 4 colors available.
Cyanna Scarf
Every Parisian needs a stylish scarf in a pretty pattern. This one is as warm as it is on-trend. 2 colors available.
Paulin Jumper
French style is in the details; an elegant knit pattern is the perfect update to any look. 6 colors available.
Clara Trousers
When you get bored with your jeans, go for a pair of trousers that are flattering, slim-fit, and go well with anything. 4 colors available.
Jack Sneakers
Everyone needs a go-to pair of sneakers! Dress down a skirt or make your office uniform more comfortable with our favorite pair. 6 colors available.
Auberie Dress
Every French girl needs a go-to dress that looks just as good at a holiday party as it does at the office. Pair with black tights and your favorite belt. 3 colors available.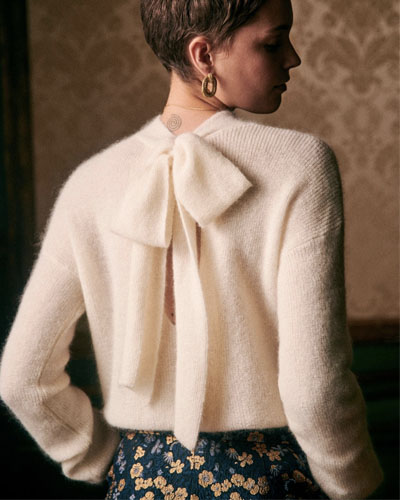 Octavia Jumper
If you haven't realized it yet, we have a thing for pretty sweaters. The feminine detail on the sweater will stand out from a sea of basics this winter. 2 colors available.
Sara Pendant
When it comes to jewelry, the simpler the better. A gold pendant is personalized, elegant, and timeless. It also makes the perfect gift for a loved one (even if that "loved one" is yourself!).
Artemise Dress
Our favorite hack for cold weather: a sweater dress. You'll feel like you're wearing a blanket to the office but will look so chic, no one will know it's practical.
Florence Shirt
A good button-up is the perfect pairing with a pencil skirt, jeans, or trousers. 10 colors available.
Arthur Pants
Speaking of trousers, this style gives off an elegant yet effortless vibe and hits right at the waist (so flattering!). 8 colors available.
Léa Boots
These booties are so timeless that they can be worn every season of every year. You'll never want to take these off, so it's a good thing they go with everything. 11 colors available.
Ava Sweat
This is how French girls do athleisure! A sporty "sweatshirt" with ruffle accents is the perfect cross between leisure and style.
Jackie Blouse
Because nothing screams winter fashion like a festive top in velvet or metallic, this is the perfect shirt to wear to all the parties of the season. 3 colors available.
Solal Jumper
When the weather is extra cold (or you just need to be a little extra cozy) a chunky cable knit in a pretty pattern is the perfect piece for your OOTD. 3 colors available.
Adeline Earrings
Every French girl knows a pair of small, sophisticated, dangly earrings is all you need to dress up an outfit. 3 colors available.
Raphael Jumper
See: iconic striped top. The ruffle details and warm fabric would look perfect under any leather jacket or trench coat.
Gisele Jumper
Somedays you just need a pop of color. Make a pair of skinny jeans stand out with a warm sweater in a vibrant hue. 4 colors available.
Gustavo Trousers
These classic trousers can take you from the office to happy hour with a swipe of lipstick and a change of shoes. They're sophisticated enough for business but chic enough for after 5pm. 6 colors available.
Inea Scarf
A warm, timeless scarf is always worth the splurge and will never go out of style. Wrap yourself up in this one made from natural materials. 2 colors available.
This post was in partnership with Sézane, but all of the opinions within are those of The Everygirl editorial board.
---
Source: http://theeverygirl.com/category/fashion-beauty/feed/